What makes a great website design?
Ever wondered what makes a great website design? Here's some tips…
Within the first 5 seconds of landing on your website, can your visitors determine what your business does?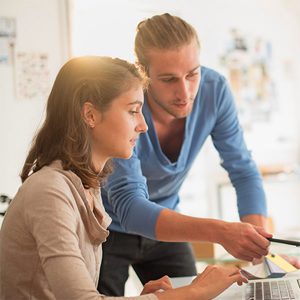 Are they easily able to navigate through various sections? Is your website design and graphics, impressive enough to keep your visitors interested?
And are you getting an extremely high conversion rate?
If you find yourself answering NO to these questions; the problem simply lies in your "website design". Your website design is your first digital impression, and you have to make sure that it's a great one. Design is not something that designers do! It is the marketing of your business. It is about your product and how it will eventually work.
The more you learn about design, the better results you will get. So what makes a great website design? Read on…
Know the Purpose of Your Website
Is your target audience looking for entertainment, education, or to transact with your business?
If yours is an entertainment website, make it engaging with videos, photos, and podcasts. If it is an informational website, the website should contain tips, tricks, and guides with helpful images and videos. But, for an ecommerce website, you need a nice design, high-quality pictures and persuasive description on how your product will benefit the customer.
Know the purpose of your website and then design it! Each web page should cater the expectations of your website visitors.
Don't Force Users Think
People visit websites to find quick answers to their questions easily.
So, make your web pages self-explanatory and intuitive to reduce the number of question marks from your visitors. If your site architecture isn't intuitive, question marks increase and make it hard for users to comprehend how to navigate from one page to another.
Instead, keep the structure clear with moderate visual clues to help people find their path smoothly.
Utilize Effective Writing

The web is entirely different from print! So, make sure your web content style meets the preferences and browsing attitude of your target audience.
Lengthy blocks of text without catchy and relevant graphics are never read. Also, content with keywords highlighted in bold or italics is skipped. Overall, exaggerated language is ignored!
Always avoid market-induced names and unfamiliar as well as complex vocabulary. Instead:
Use simple and meaningful terms
Keep paragraphs short and concise; come to the point directly
Use objective language to give your visitors a reason to convert into your customers
Keep the layout quickly scannable with heading levels, bulleted lists, etc.
Keep it Simple and Minimal
The primary goal of your website design!
From the visitors' perspective, the best websites feature fewer pages, simple designs, and more blank space.
You can also follow "Flat Design," which uses aesthetically pleasing two-dimensional images in combination with lots of open space and vibrant colors.
Responsive Design
Nowadays mobile is the commonplace to access the internet. Mobile devices come with multiple screen sizes, and you want to make your website design look great on all devices.
You have two options to achieve this – build it in a responsive layout or get a dedicated mobile site. A dedicated mobile site is a separate site designed and optimized for mobile users only.
Responsive websites look and work great regardless of the device and screen size. With evolving improvements in mobile technology and the growing popularity of mobile devices, having a responsive site is a must.
(You can check out our handy list of SEO tools, lot's of great ways to check how well your website is performing.)
Clear Website Navigation 
Navigation is about how people will take action and move around your website. It should be too easy!
Even the most beautiful websites are skipped just because of their awful navigation as it confuses the visitors. So, keep your website's navigation easy and clear.
Create logical web page hierarchy with clickable buttons and well-defined categories. Remember the 'three click rule' that means users should be able to find the desired information within three clicks.
Alternatively, follow the 'F-shaped pattern.' People mostly see in the top left of the screen. So, make the most out of this phenomenon. Put the most important and impressive information in the top left corner.
Your website is the business card of your company. People judge you based on what they see. That's why it's important to spend significant time and efforts on creating an awesome website.
Looking for assistance with your website development? We're always happy to help. Get in touch!